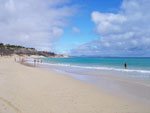 Search for holiday rentals in The Canary Islands consists of 9 islands and a handful of islets. There are 7 major islands: El Hierro, Fuerteventura, Gran Canaria, La Gomera, La Palma, Lanzarote and Tenerife. The 2 minor islands are La Graciosa and Lobos.
Geographically, the archipelago is a part of the African continent but the group of islands is under Spanish administration. The Las Palmas de Gran Canaria is the capital of the whole archipelago and is one of Spain's major cities.
Located on the island of Gran Canaria, Las Palmas combines a cosmopolitan and beach lifestyle effortlessly. The city offers shopping, bars, and a multitude ofrestaurants. The city knows how to celebrate Las Palmas style with spectacular carnivals and the WOMAD music festival. The historic center and a handful of museums make this city a well-balanced playground.
Tenerife is the biggest of the major islands and is strangely left out by American tourists when they visit. The island's center of attraction is the Pico del Teide and a cable lift is ready to take visitors to the highest point of the archipelago. The word ethereal comes to mind with a close view of the majestic volcano and the rest of the island.